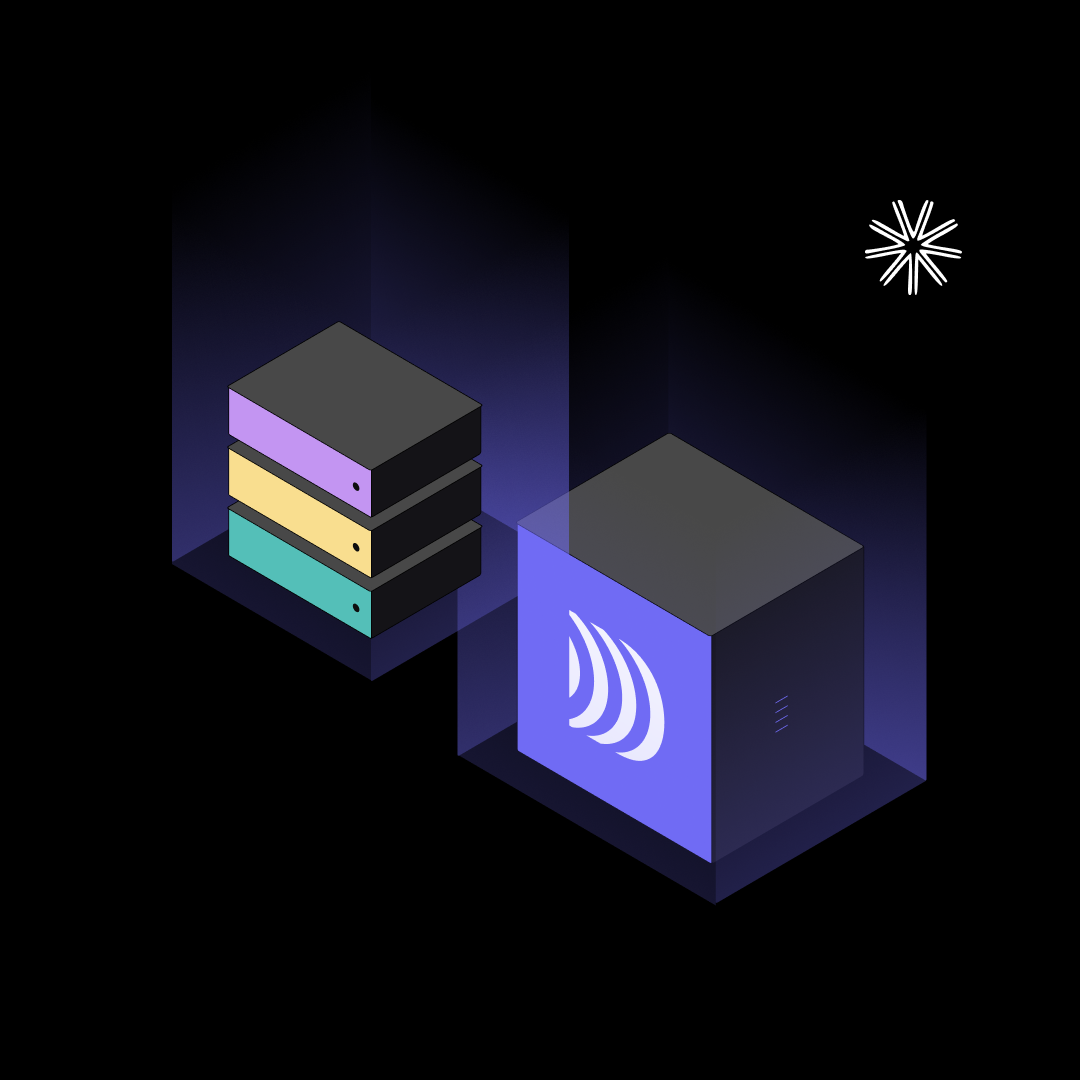 The rise of the Modular CDP
Introduction
If you want to create personalized marketing that really speaks to your customers, you need to have a good handle on their data. Customer Data Platforms also known as CDPs have been developed to support data-driven Marketing. However, with the growing complexity of customer journeys and the evolution of technology, CDPs have shown many limitations, especially with the rise of the Modern Data Stack.
That's where Modular or Composable CDPs come in - they're designed to be more flexible and adaptable to today's marketing use cases and technical stacks. This article discusses the history of CDPs, their limitations, and how modular CDPs became the best solution for modern marketers.
Brief History of CDP
CDPs have been around for quite some time, but they have evolved significantly over the years. In the early days, businesses used Customer Relationship Management (CRM) systems to store customer data.
1. CRM
CRMs are designed for managing companies' relationships and interactions with customers and potential customers they help companies stay connected to customers and streamline processes. Both CDPs and CRM tools gather customer data, but the way they do it and the benefits they offer to an organization differ significantly. CDPs consolidate customer information from multiple online and offline channels, creating unified profiles that provide a more complete view of customer behavior. CRM systems were primarily designed for sales and customer support, and they lacked the necessary features to manage customer data effectively. They rely on manual data entry to track customer interactions, which means they only capture a limited set of data related to customer intention.
2. DMP
In the early 2000s, companies began using Data Management Platforms (DMPs) to collect customer data for online ads. These platforms mainly relied on third-party cookies to gain insights into unknown audiences. However, they were not effective at managing known data or storing data for extended periods of time.
Although DMPs were designed to work with other marketing technology platforms, they were typically managed by the IT department and did not provide marketers with the ability to make informed, data-driven decisions that put the customer at the center of their marketing strategy.
As digital channels became more prevalent, a couple of issues arose with traditional marketing tools that made it difficult for companies to personalize their marketing efforts:
Firstly, marketing suites such as Salesforce, Oracle, and Adobe were primarily designed to handle certain types of customer data and struggled to manage the vast amount of data available from various sources such as social media and websites. This led marketers to seek out a new layer of technology to help organize all this data.

Secondly, marketing tools were mainly developed for omnichannel experiences through email. However, as people began using various channels such as SMS, mobile apps, and online ads, companies needed to find new ways to reach customers across all these channels.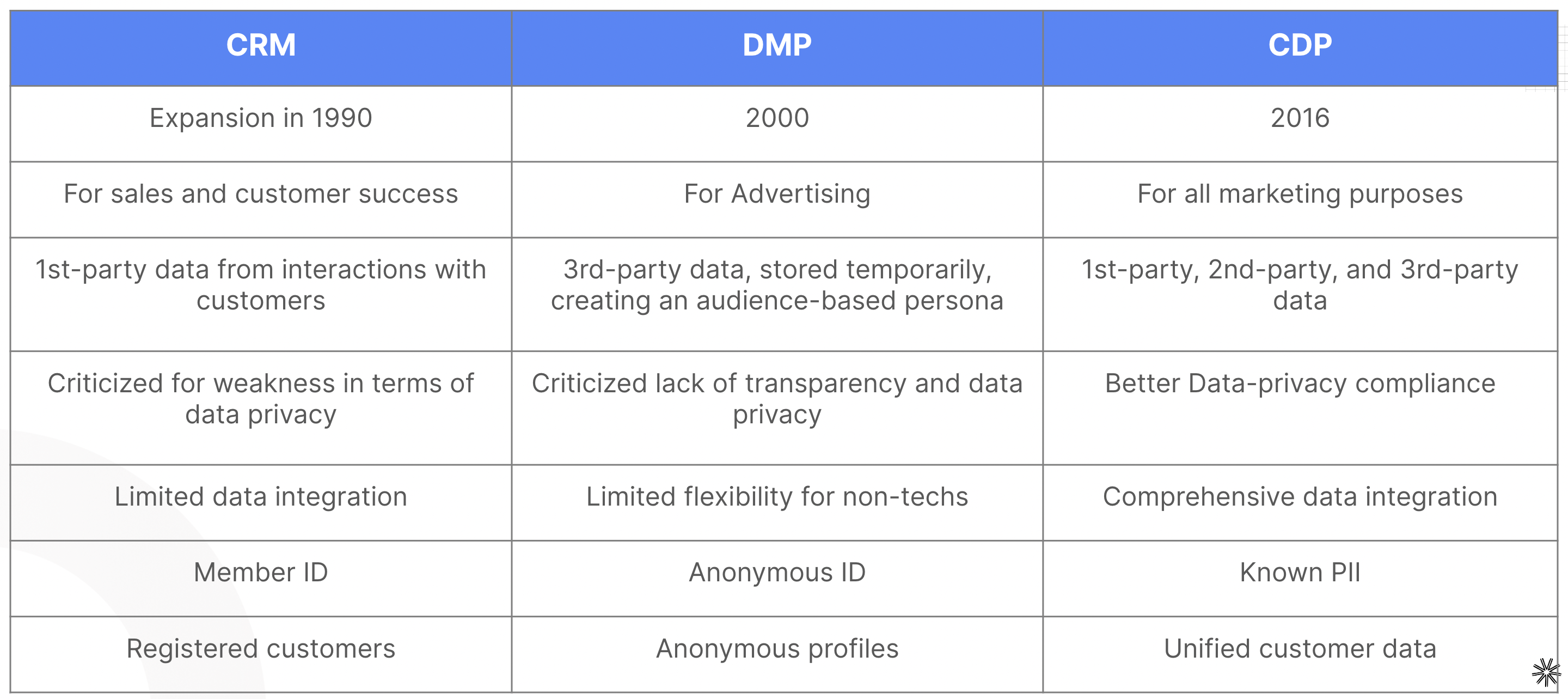 3. The emergence of CDPs
To keep up with the rise of digital channels in the customer journey, traditional marketing tools have tried to morph into both a data layer and a cross-channel marketing platform. For instance, some CRM providers have created connectors with the main media activation tools, and some DMPs have started to include first-party data. Additionally, Tag Manager Systems (TMS) have been integrated to gather navigation data, which can be sent to third-party platforms to gather new sources of both online and offline data.
In 2013, David Raab, a consultant in marketing technology evaluation and analytics saw that a new type of software is emerging. So he stepped forward and coined the term Customer Data Platform in this exact blog post, defined as:
CDP: A packaged software system that collects and organizes customer data from multiple sources, such as websites, mobile apps, social media, email, and offline interactions, into a unified customer database.
In 2016 interest in the CDP category began to grow sharply when CDPs first appeared on the Gartner Hype Cycle and the Customer Data Platform Institute was founded By David.
The CDP Institute created a definition for CDPs based on common consumer expectations, with a focus on marketing use cases. Although the scope of CDPs extends to all customer-related functions, the explosion of the "mar-tech" landscape from 2013 to 2020 has led to their close association with marketing use cases. David noted in his original blog post that "customer" implies more than just marketing, such as sales, finance, and product development.
"Customer" = the scope extends to all customer-related functions, not just marketing;

"Data" = the primary focus is on data, not execution;

"Platform" = it does more than data management while supporting other systems
CDPs: Why they're not living up to expectations
Well, while they were created to solve the problem of data fragmentation, they ended up creating some new challenges for businesses:
1. Implementation complexity
Classic CDPs were often complex and required a lot of IT resources to implement. This meant that marketers had to rely on their IT teams to get access to customer data, which is another failed promise to marketers' autonomy aspirations besides being a time-consuming process.
2. Not scalable or modular
Additionally, classic CDPs lacked flexibility and features to integrate with other marketing technologies, making them difficult to scale and modular.
3. Important run cost
Existing CDP license range from 100k to many million euros. Many companies found that they had to hire new extra skills and resources to use and maintain the platform, which led to high run costs.
4. Raising privacy issues
One of the biggest concerns with classic CDPs is the issue of privacy. Companies had to duplicate their customer data in 3rd party tools, which raised many privacy issues and may not have been compliant with standards.
5. Unfulfilled promise:
Another problem is that trad CDPs often fail to answer more elaborate marketing use cases. For example, they may not be able to identify churn-risk customers or top users during a specific month. This is because classic CDPs struggle to fulfill promises like real-time data activation and a single customer view.
As a result, only 10% of CDP owners today feel that the product meets all their needs. The ideal of a 360° view of customers remains elusive…
The future in the warehouse: A Modular CDP
The demand for customer data is on the rise, but traditional Customer Data Platforms are struggling to keep up as cookies crumble. Fortunately, cloud data warehouses have provided a solution that serves up first-party data on a silver platter. Enter the modular CDP - a new type of solution built on a microservices architecture that's much more flexible and high-performing than traditional CDPs. With the ability to activate data directly from the cloud data warehouse, organizations can unlock the full potential of their data investments. Thanks to the rise of the modern data stack, a new era of customer data management has emerged. Data teams now have the ability to create and manage their data layer on their own infrastructure, which has helped bridge the gap between data teams and marketing teams.
Composable CDP: A new customer data management system that enables organizations to access and activate data across multiple sources directly from their cloud Data Warehouses, to drive personalized marketing campaigns and enhance customer experiences.
But that's not all - the Composable CDP takes it a step further by empowering businesses to seamlessly integrate with all the marketing technologies in the menu, including CRMs, Ads, and Marketing Automation platforms. This piece of the process is called Data Activation and it is possible thanks to Reverse ETL tools like DinMo. This way you make sure that valuable data can be accessed and utilized across the entire marketing stack, regardless of which downstream tools are in use.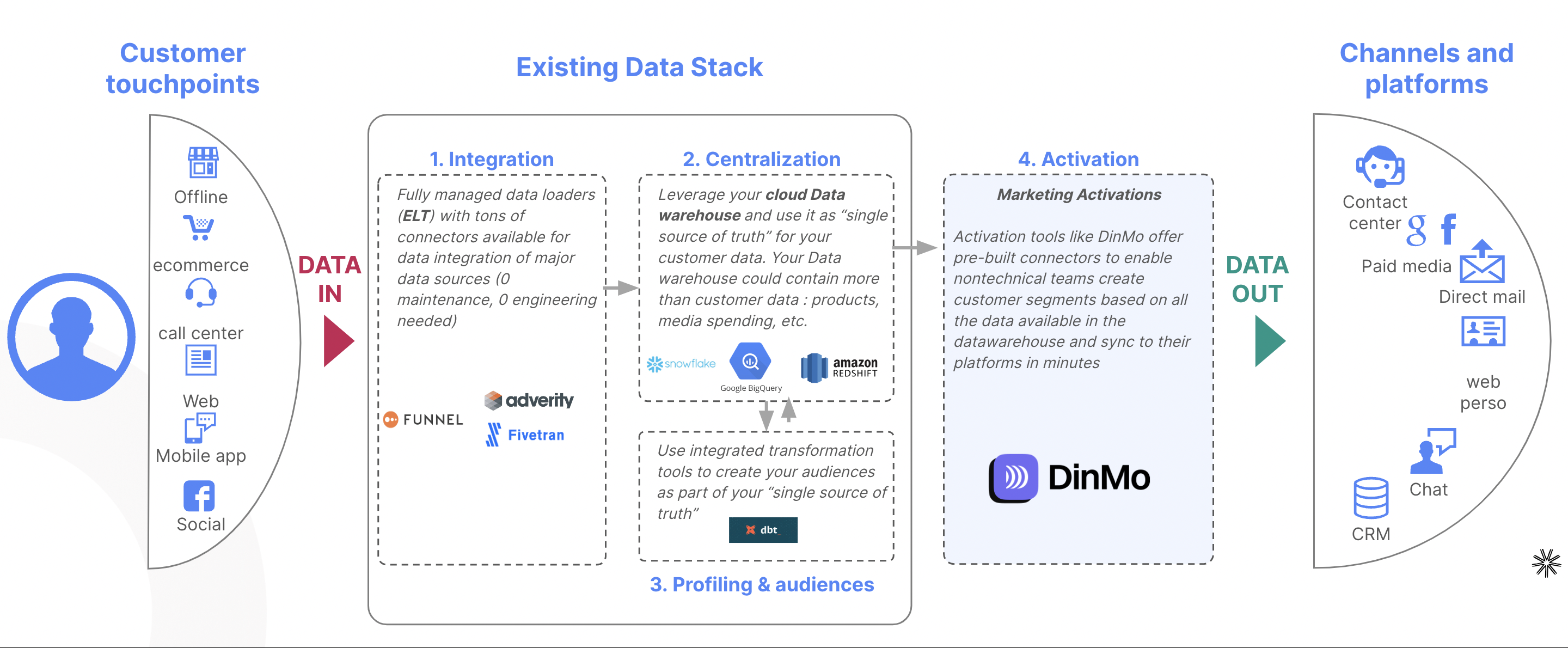 How you can leverage DinMo to transform your Existing Modern Data Stack into a Modular CDP
8 Key Benefits of Modular CDP
Modular Customer Data Platforms, or composable CDPs, offer several benefits to businesses that make them a valuable investment. Here are 8 key benefits to consider:
Flexibility: A modular CDP is designed to be customized easily, so you can create a CDP that is tailored specifically to your business needs.

Scalability: With a microservices architecture, a modular CDP can be scaled up or down based on your requirements, making it highly adaptable.

Integration: Modular CDPs can be easily integrated with other marketing technologies, such as CRM, DMP, and Marketing Automation platforms, making them highly compatible.

Cost-effectiveness: A modular CDP eliminates the need for multiple CDPs for each use case, making it a more cost-effective solution. Plus, it allows businesses to create a custom platform that meets their specific needs without incurring unnecessary expenses.

Better Data Governance: A Composable CDP offers complete transparency, assurance, and auditability throughout the entire customer data architecture process. By controlling what information is collected, stored, and shared with your marketing partners, you can ensure compliance with data regulations such as GDPR and CCPA.

Improved Data Quality: By managing and standardizing customer data into a single source of truth, businesses can improve the quality of their data.

Faster Time-to-Value: No need for SQL or coding, you can achieve faster time-to-value by quickly launching new campaigns and initiatives on fresh audiences with a modular CDP.

Enhanced Customer Experience: Thanks to the single source of truth, modular CDPs cut off with data silos and enable businesses to create a unified view of the customer and deliver personalized experiences across all channels, leading to enhanced customer experiences and increased customer loyalty.

Better Marketing ROI: Combining marketing creativity with reliable data is the perfect recipe for delivering personalized experiences that resonate with your customers and optimize marketing spend. A modular CDP is a valuable investment if you are looking to enhance your marketing capabilities and improve your bottom line
Conclusion
In conclusion, traditional CDPs are no longer sufficient for modern marketing. The rise of cloud data warehouses and modular CDPs has made it possible for you to achieve a single source of truth in data, and to realize the dream of a 360° view of your customers. This has led to more efficient and effective decision-making, as well as a more harmonious working relationship between data teams and marketing teams.
By seamlessly integrating all Martech tools and accessing valuable data across the entire marketing stack, the Composable CDP has become a powerful tool for optimizing marketing efforts and achieving better results in today's data-driven world.
Get connected to our experts at DinMo, the Data-Led Growth platform and learn how to transform your data warehouse into a modular CDP and take full advantage of your data to drive growth.