Personalize Email Offers based on the Customer's Product Category Sensibility



Assessing real-time customer product category sensibility with DinMo, you can personalize your email campaigns based on your customers' interests, ultimately increasing customers' engagement, boosting sales and driving cross-selling & up-selling opportunities.
Overview
When looking to increase their customer engagement and increase their sales, many businesses rely on emailing marketing campaigns. One way to make the most out of their email marketing is to send personalized emails that are relevant to their customers' interests and preferences.
But marketing teams who work with CRMs often face the challenge of figuring out which customers are actually interested in a particular product or service. As a result, many just rely on crafting generic email campaigns to promote a new product and sending them to the entire customer base, hoping to capture some interest. Of course, this approach is highly counterproductive…
…And that's where DinMo comes in.
DinMo helps businesses overcome this challenge by leveraging valuable insights on each customer's level of interest across all product categories to create targeted and effective marketing campaigns.
Personalize your email campaigns with DinMo by using product categories sensibility
Using data from your customers' purchasing history, website behavior and correlations between products, DinMo can help you personalize email campaigns by assessing your customer's product category sensibility. This enables businesses to easily send targeted emails to customers who have a high appetite for a particular product category and ultimately drive up-selling & cross-selling opportunities.
Example Use Case
Suppose you're a marketer for a home decor business with a wide range of products, including furniture, lighting, and accessories. You want to create personalized email campaigns that resonate with your customers.
Using DinMo, you can assess each customer's interests in furniture, lighting, and accessories. You can then create targeted email campaigns that offer discounts on the products they're most interested in, increasing engagement and driving sales.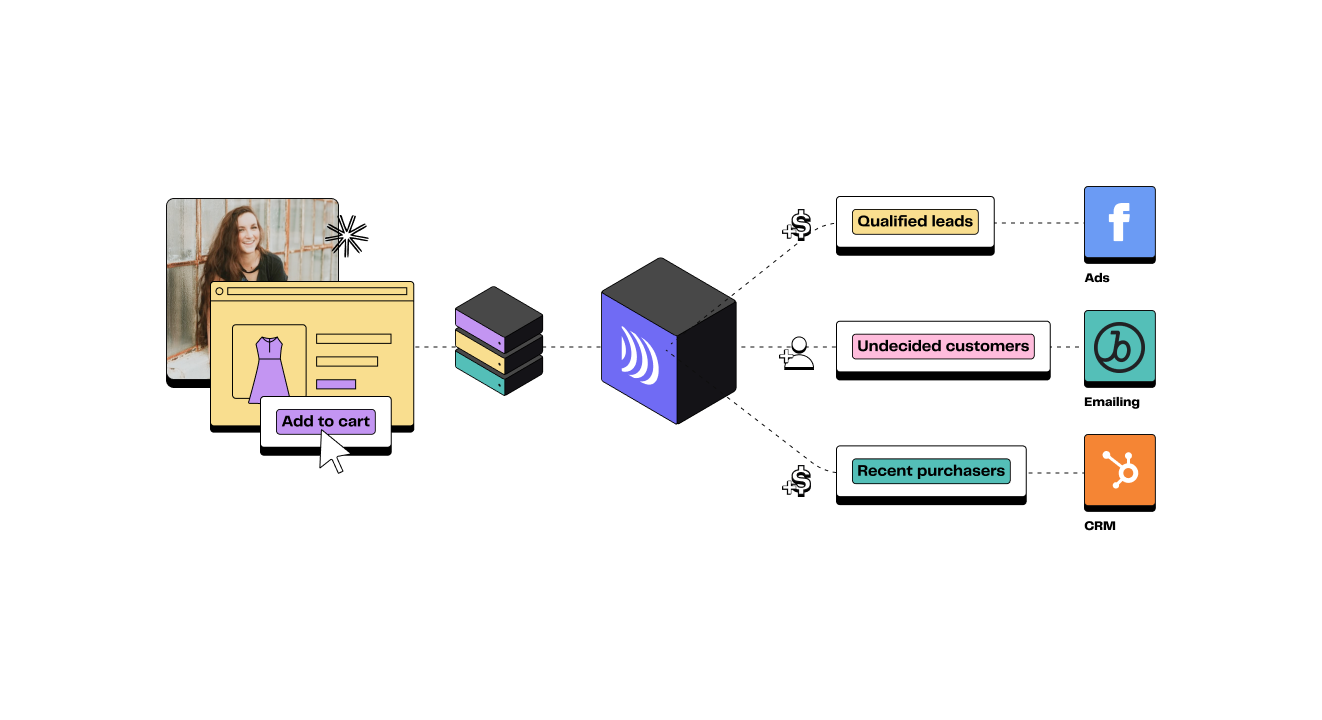 Steps involved using DinMo's features
DinMo simplifies customized email campaigns for businesses in three easy steps:
First, you need to create an audience from your Customers Entity by setting up the appropriate rules:

For instance, you can create an audience of all customers that have purchased a given product/product category. If the goal is to promote a complementary product, you can also remove all customers who already bought this given product. (e.g. People who bought a laptop might be interested in a computer mouse next).

Once you've created the audience, you can sync it to the platforms of your choice including marketing automation platforms like Braze and Klavio

Finally, you can launch specific campaigns promoting relevant products to this audience.
Conversion
Upsell
Cross-sell