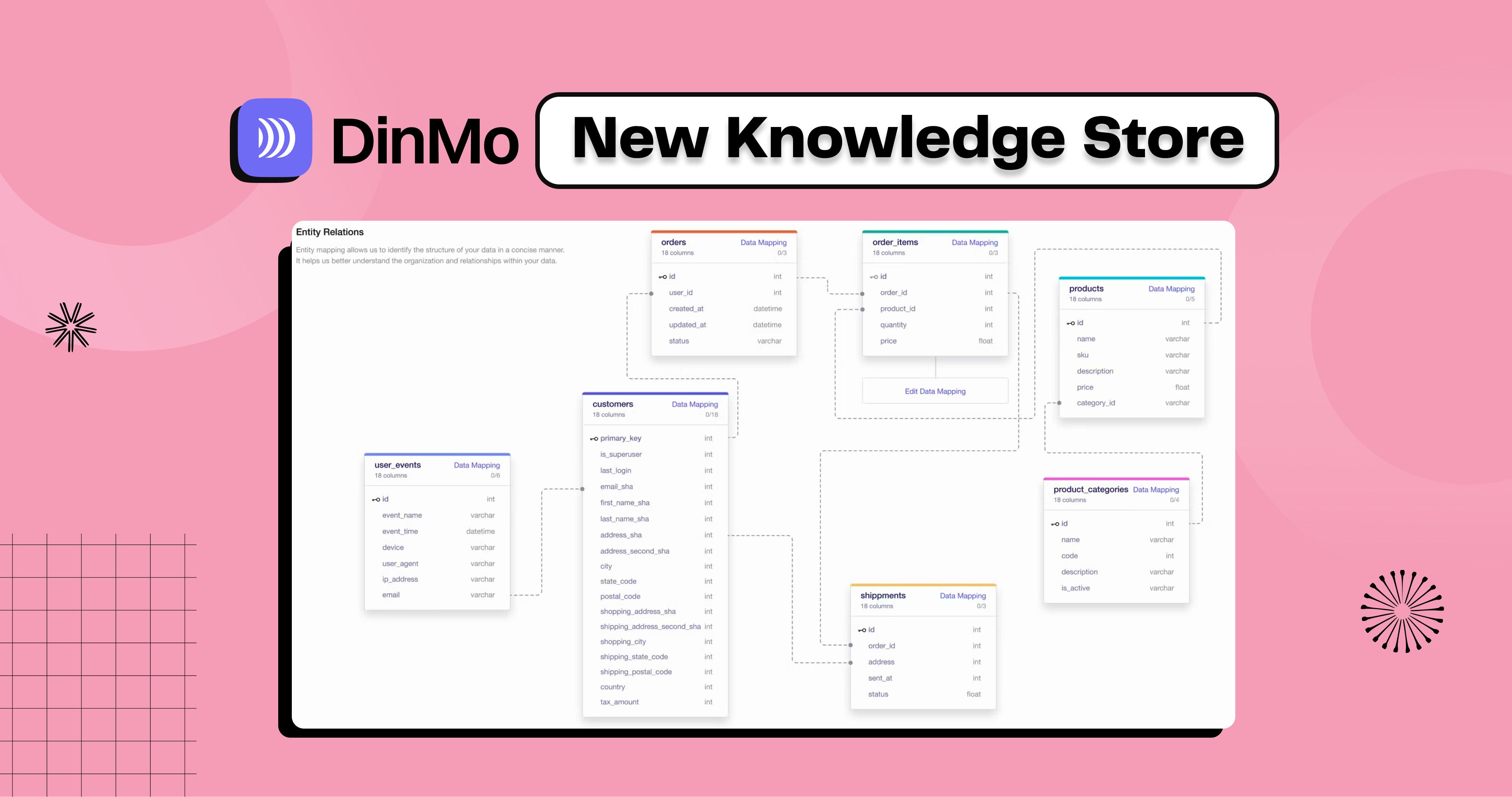 New DinMo's Knowledge Store: Make your critical data accessible to everyone
If there's one thing we've learned from years of building data platforms for business teams, it is that every business is unique. So why should the data model that powers your Data Platform be any different?
As we celebrate the launch of our V1 Data-Led Growth Platform, we are thrilled to introduce another cornerstone feature — DinMo's Knowledge Store, our version of the Composable CDP's data model. It is built to capture the essence of your business, making it easier for your teams to access, analyze, and activate data. It's all about getting the right data to the right people and driving data-led growth for your business.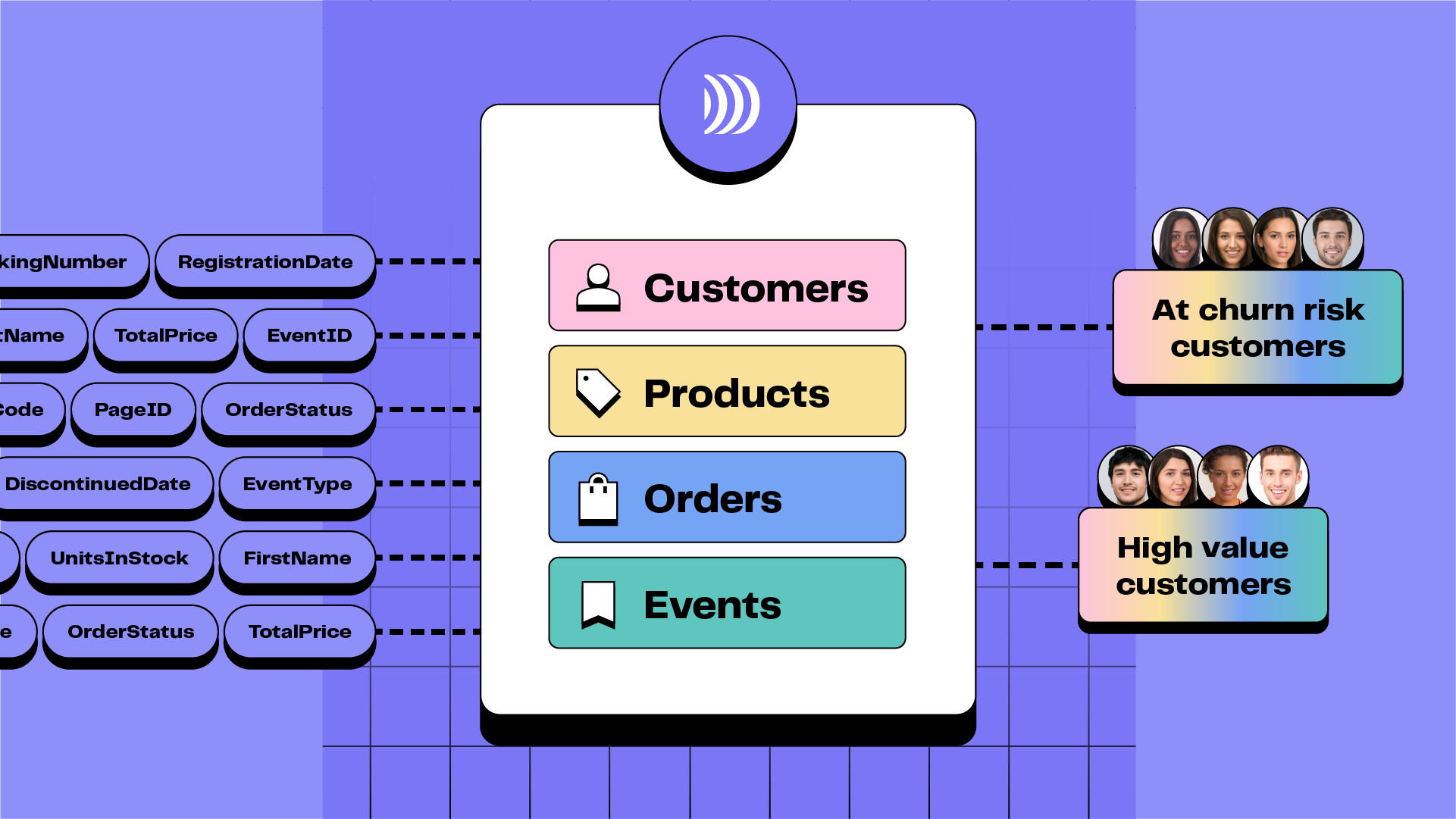 DinMo's Data Modal: Your critical data made accessible to everyone
Data Models: The Unseen Enabler of No-Code Experiences
When we introduced the No-Code Audience Builder as part of our product launch, you got to witness how effortlessly it can segment audiences, leveraging your data cloud. However, this is only the tip of the iceberg. What you see above the surface is only part of the picture. Beneath, anchoring the Audience Builder and powering its functionality lies DinMo's Knowledge Store and its data model.
The most substantial part of our solution is unseen by business users - the Business Entities that form our data model. It forms the foundation, enabling data democratization by structuring data for easy access, analysis, and activation. It is the secret ingredient that brings flexibility to the otherwise rigid Customer Data Platform (CDP) solutions, unlocking the potential of your customer touchpoints and operational data.
Why another data model? The DinMo difference
Traditionally, Customer Data Platforms (CDPs) and Customer Relationship Management (CRM) systems like Salesforce and Marketo used rigid data models. Designed around standard business processes, they provided predefined objects, simplifying data management but posing limitations for businesses with unique or complex data requirements.
For example, Salesforce initially was based upon a rigid data model designed for what was then a standard sales process. It had predefined objects such as:
Leads

Opportunities

Accounts
When integrating with such CRM, your tech or data team should make the data fit in the Salesforce Data Model, which often makes it hard and long to get started using the CRM feature.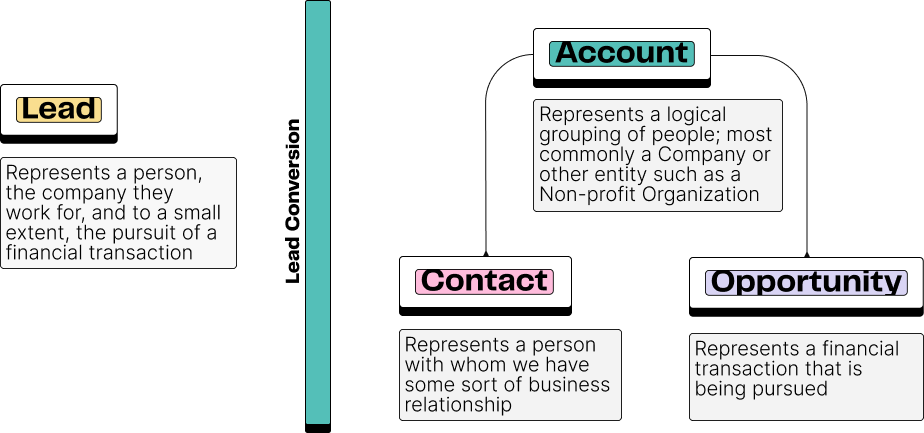 Over time, these platforms evolved, incorporating more flexible systems that enabled businesses to integrate their specificities through custom models. Salesforce introduced custom objects, fields, and relationships, while Marketo expanded the use of custom fields and segments. These changes allowed personalization and tailoring of data collection. However, the core structure remained largely rigid, and these models continued to struggle with complex data transformations, resulting in data silos and inefficiencies.
Reflecting on my time as a data consultant, I've seen businesses wrestling with these issues. For instance, a top global retailer struggled with a simple query of getting "Customers who bought a specific product in the last 'X' months?" due to their CDP's rigid data model. It wasn't a lack of data but its inflexible structure that was the issue.
At DinMo, we're reimagining this structure. With the launch of our Knowledge Store, we aim to break free from the constraints of traditional data models, empowering businesses to build their own flexible and trusted data models, fully harnessing the power of their data.
Dive Deep into DinMo's Knowledge Store
DinMo's Knowledge Store was developed keeping the modern data stack in mind, following a domain-specific data mesh approach. It integrates seamlessly with your data warehouse and the semantic layer and models built-in tools like dbt.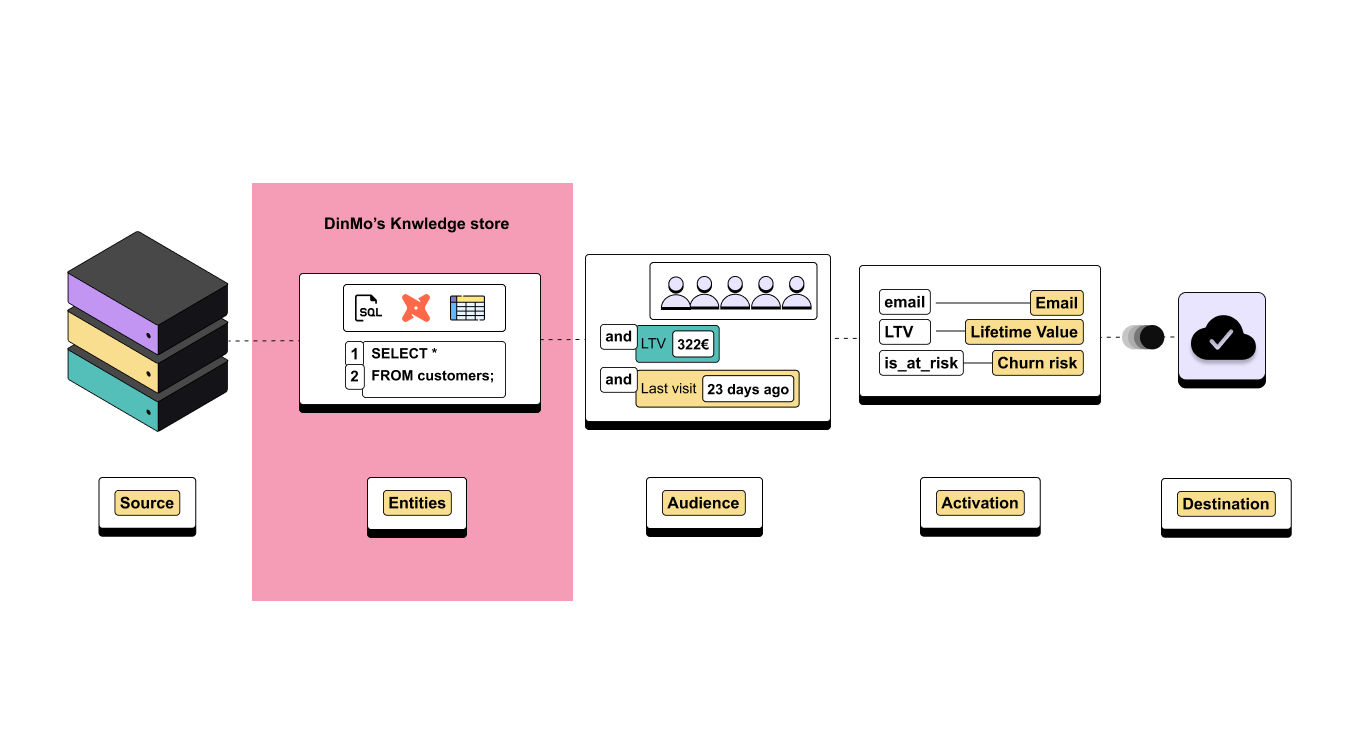 DinMo's Knowledge Store integrating your Data Warehouse
At the core of DinMo's Knowledge Store are Entities, a robust component that redefines the realm of marketing segmentation. Entities embody specific types of objects and act like a table in a database, containing all the necessary properties of an object, available for marketers at the click of a button.
Entities make marketing segmentation incredibly powerful, enabling marketers to slice and dice and create subsets of data rapidly. With an intuitive point-and-click interface, marketers can quickly apply filters on text, boolean values, dates and times, and more.
But the real prowess of Entities lies in their ability to leverage the relationships between them. Built upon your entities, segment conditions can take advantage of these relationships, offering a new dimension of insights. For instance, you can create segments of users who bought a certain product in specific geographies or/and have not created no order in the last year, by defining conditions on related objects. DinMo's Knowledge Store automates the complex process of writing the appropriate SQL joins, leaving you with seamless, accurate data segmentation.
In essence, Entities unlock a new level of capability for marketers. They facilitate the exploration of multi-dimensional data, allowing you to delve into advanced segmentation based on the relational aspects of your data. All of this contributes to a better understanding of your audience and, consequently, more targeted and effective marketing strategies.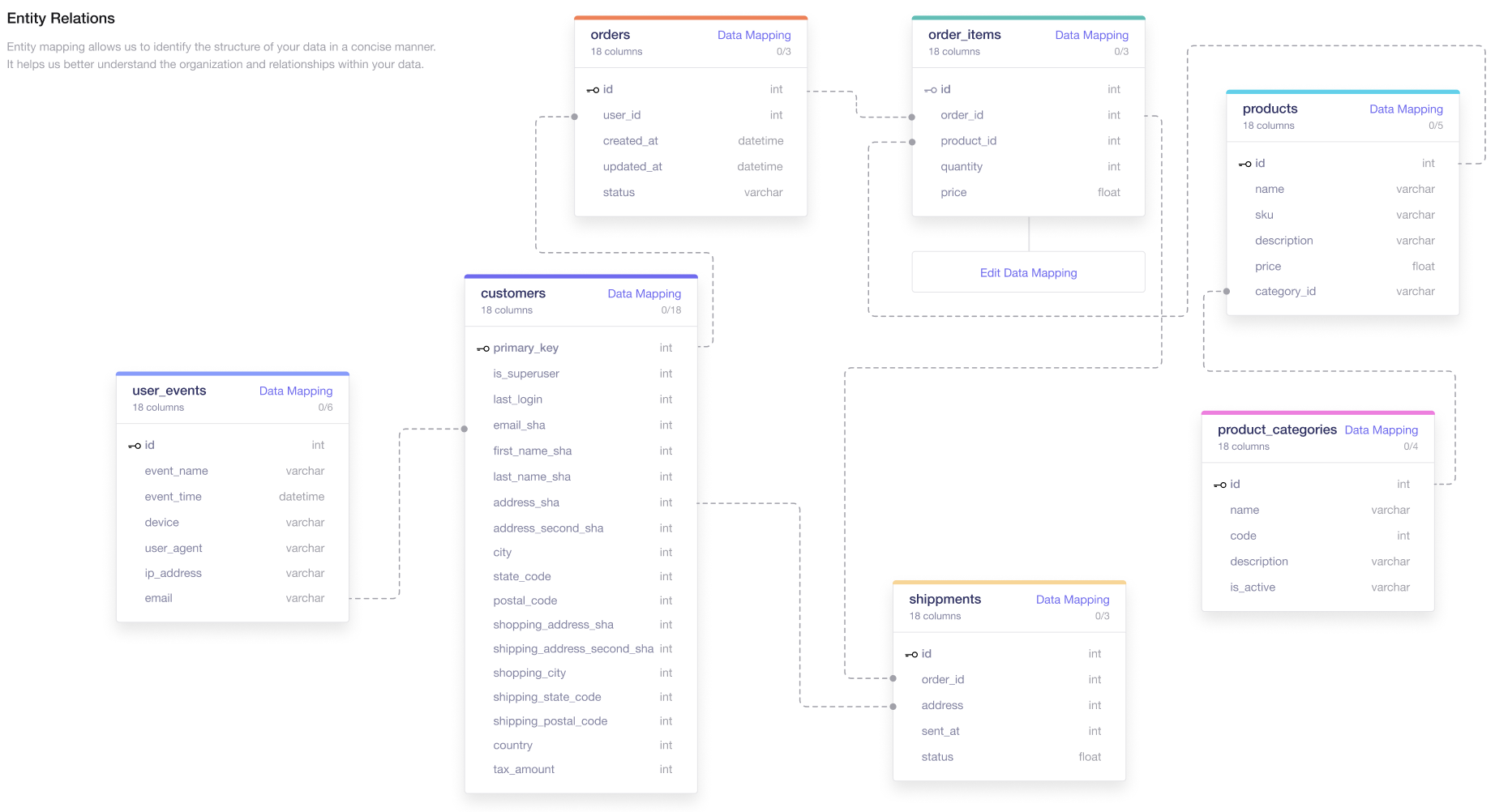 DinMo's Data Model: Entities Mapping
We have also incorporated the ability to add Custom Attributes. This feature, exclusive to the Customers and Users entities, allows you to create new attributes with complex logic that is specific to your data activation needs.
Looking forward, we're excited to introduce Metrics into the Knowledge Store. Metrics will allow you to aggregate calculations characterizing a segment related to an existing entity, using formulas over the entity's attributes. This new addition, coming soon, will further enhance the capabilities of our Knowledge Store.
The DinMo Vision: Democratizing Access to the Modern Data Stack
Our vision at DinMo has always been to empower businesses by simplifying data access and promoting a data-driven culture. By creating a knowledge store that incorporates all business knowledge easily, we're paving the way for a future where data access is not just the domain of data scientists.
We envisage DinMo's Knowledge Store as a collaborative space where business teams and data teams can work together. Business teams propose definitions based on their understanding of the data needs; data teams validate the logic, and it's stored and ready to be reused. The knowledge store serves as a live, evolving repository of data knowledge, building trust and fostering an environment of data-driven decision-making.
On our roadmap, we aim to increase the flexibility and adaptability of our Knowledge Store. We plan to:
Import entities and metrics from tools that data teams already use, such as dbt.

redesign the Knowledge Store to be optimized for LLM and self BI
We also have in mind data quality and will be integrating it with data observability tools like Sifflet or Monte Carlo to ensure that DinMo is fueled with accurate, up-to-date data.
Wrapping Up
Remember the iceberg analogy? With DinMo's Knowledge Store, we're giving you the power to see and shape what lies beneath. By democratizing data access and allowing business teams to navigate and use the data confidently, we're empowering businesses to go beyond the surface and unleash the full potential of their data.
As we move forward, we're excited to continue innovating and offering solutions that elevate your data-led growth journey. With DinMo's Knowledge Store, we're inviting you to build your own data model, tailored to your business needs. Every order, every product, every detail. At your fingertips, organized the way you want.
Join us as we move ahead in our journey to make data-driven marketing and growth universally accessible, transcending the enterprise boundary. DinMo's Knowledge Store is just another step in that direction. Embrace the power of your data. Get ready to explore DinMo's Knowledge Store and take your data-led growth journey to the next level!