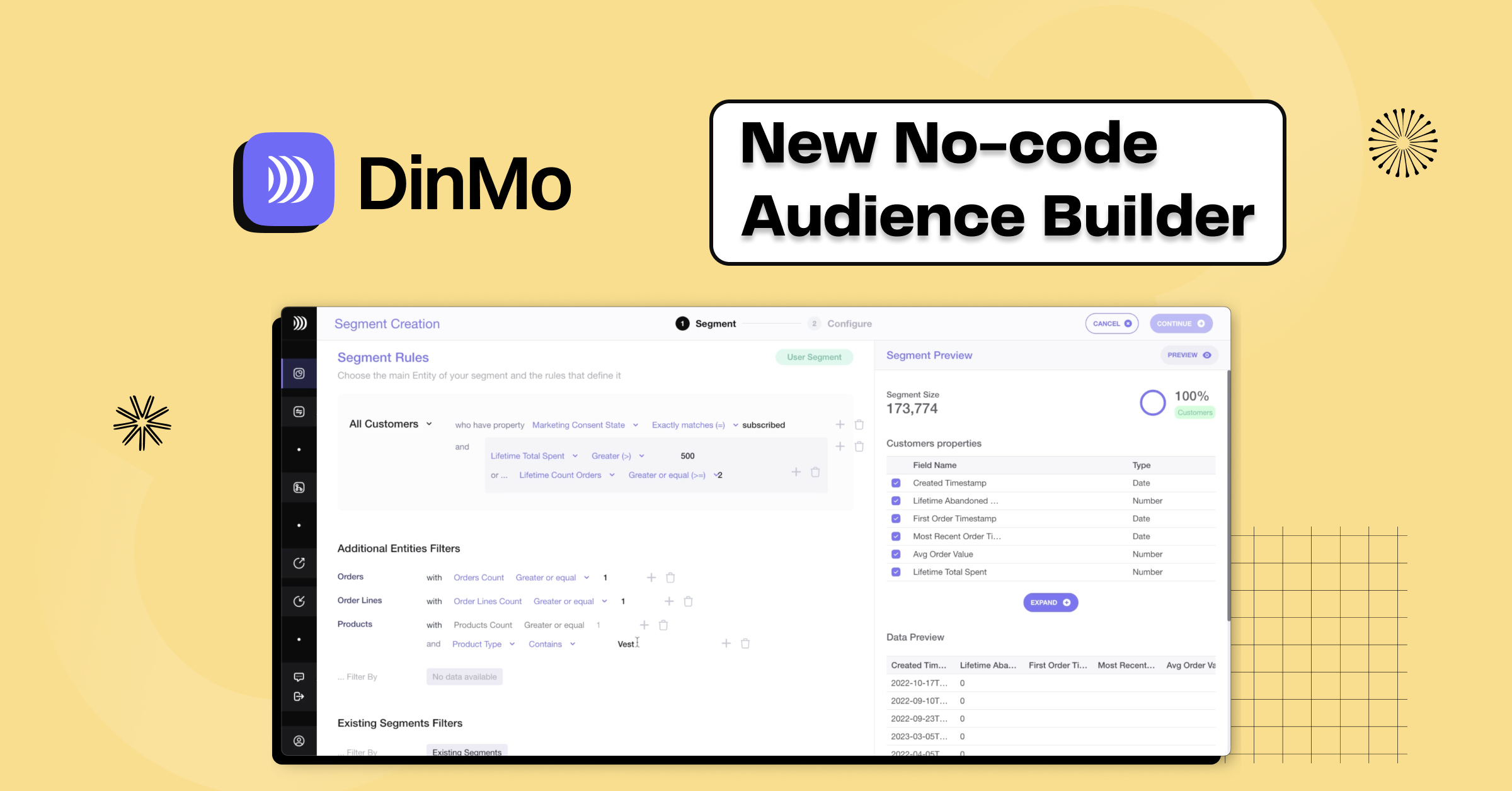 Unveiling DinMo's No-Code Audience Builder for the Data Cloud
In today's data-driven marketing landscape, the ability to deliver personalized customer experiences is critical. However, fragmented data dispersed across multiple systems often becomes an obstacle for marketers. A staggering 98% of companies struggle to leverage their customer data for a comprehensive cross-channel customer experience, according to Google & BCG study.
Transitioning towards first-party data solutions is rapidly becoming a necessity for marketers, propelled by regulatory changes such as CCPA and GDPR, the iOS 14.5 update, and the discontinuation of third-party cookies. However, this shift often turns marketing operations into technical nightmares.
DinMo is here to guide you through this tumultuous sea of data. We provide you with the tools to navigate the data-driven world effortlessly, regardless of your technical expertise. Our team has designed and developed a feature that addresses one of the most significant challenges marketers face: building the right audience without code.
Unveiling the Power of DinMo's No-Code Audience Builder
We are thrilled to unveil the first feature of our new platform, the Visual Audience Builder! This tool signifies a key milestone in our mission to empower businesses with effortless data access and management.
Say goodbye to siloed data, endless tickets, and manual CSV uploads. Our Audience Builder gives you direct access to a 360-degree view of customer data. This allows you to swiftly and confidently build audience segments in compliance with your data team's governance standards.
Define your audience for use across all your marketing platforms - ads, CRM, email, SMS, and more. DinMo ensures your audience is always in sync with your source data, freeing you to focus on your marketing efforts without worrying about data synchronization. No more hassles of ensuring you've uploaded the correct CSV to the right platform!

Key Capabilities of DinMo's Audience Builder
The Audience Builder is intuitively designed to empower anyone to create complex user segments easily. These segments, powered by fresh data from your Datawarehouse, can be made across multiple business entities, such as users, companies, orders, and products.
Multi-entity segments: Seamlessly create segments across complex data relationships like "customers and products" or "accounts and profiles" without needing to write any code or worry about JOIN operations. Enjoy precise, granular targeting with ease.
Multi-Entity audience builder
Segment Inclusions and Exclusions: Easily include or exclude data points from your existing segments, providing you with granular control over your audience.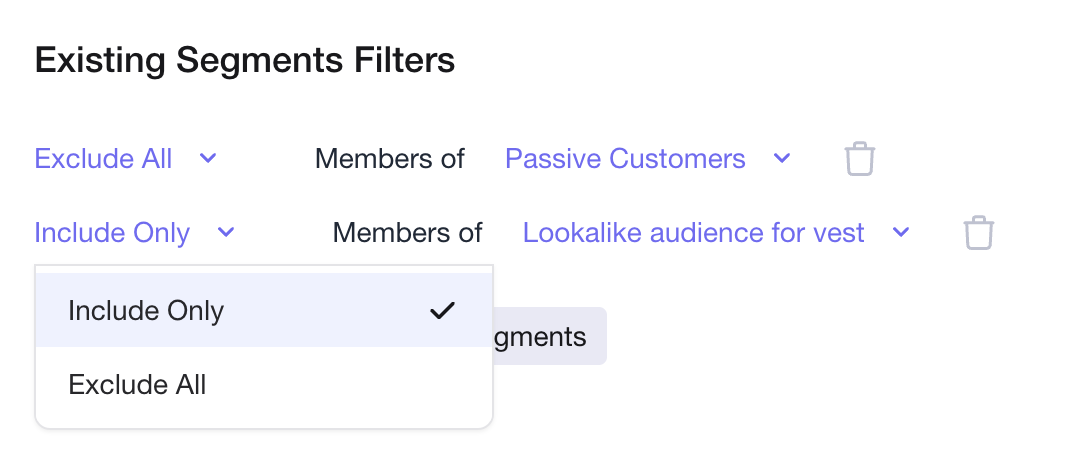 Segment Stats Tracking: Monitor your segment metrics, such as the size, the daily turnover, or the matching rate on external platforms, to ensure your growth is fueled with the correct data.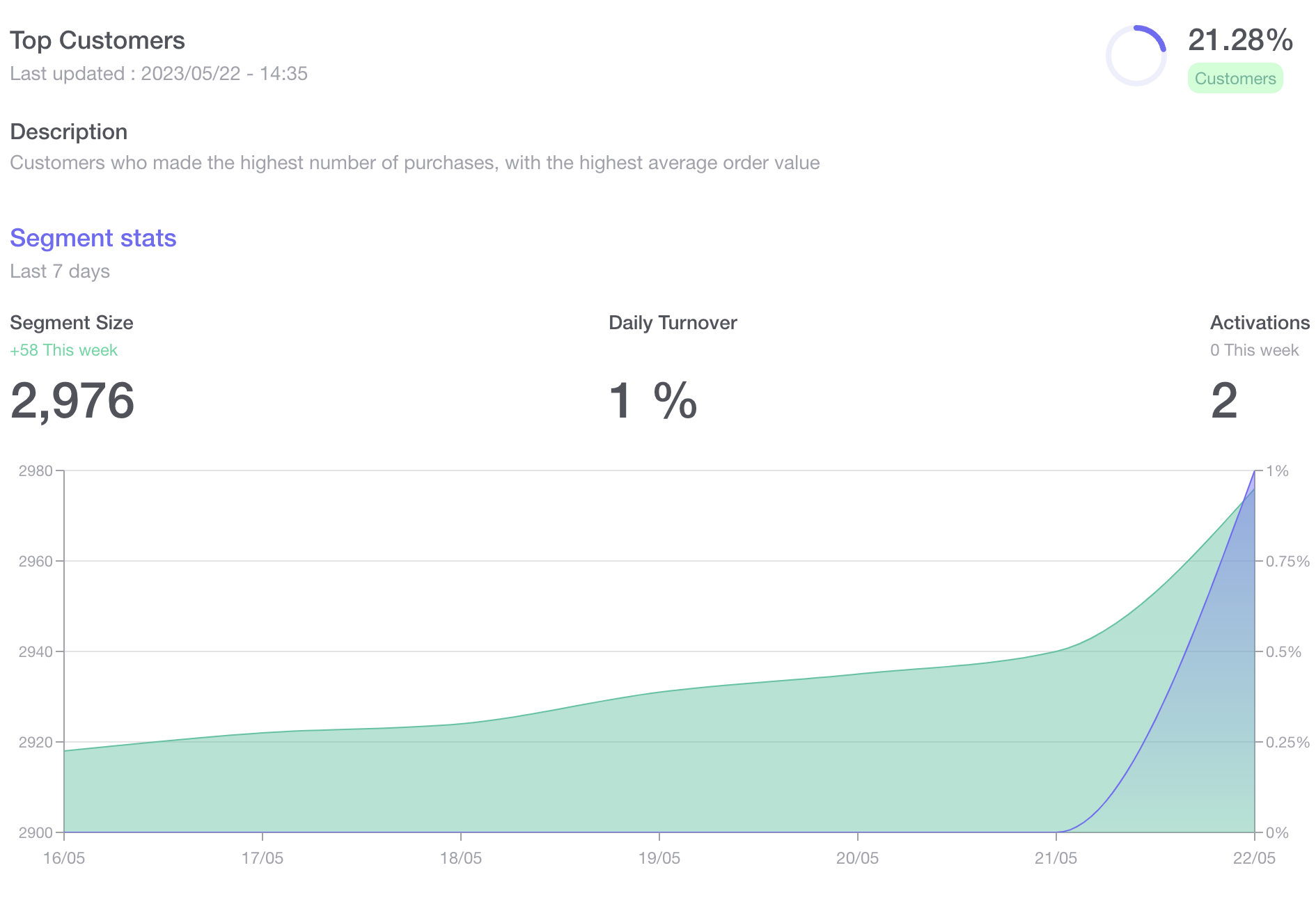 Data Preview: Preview your segment data for an instant sanity check, ensuring you've captured the right audience.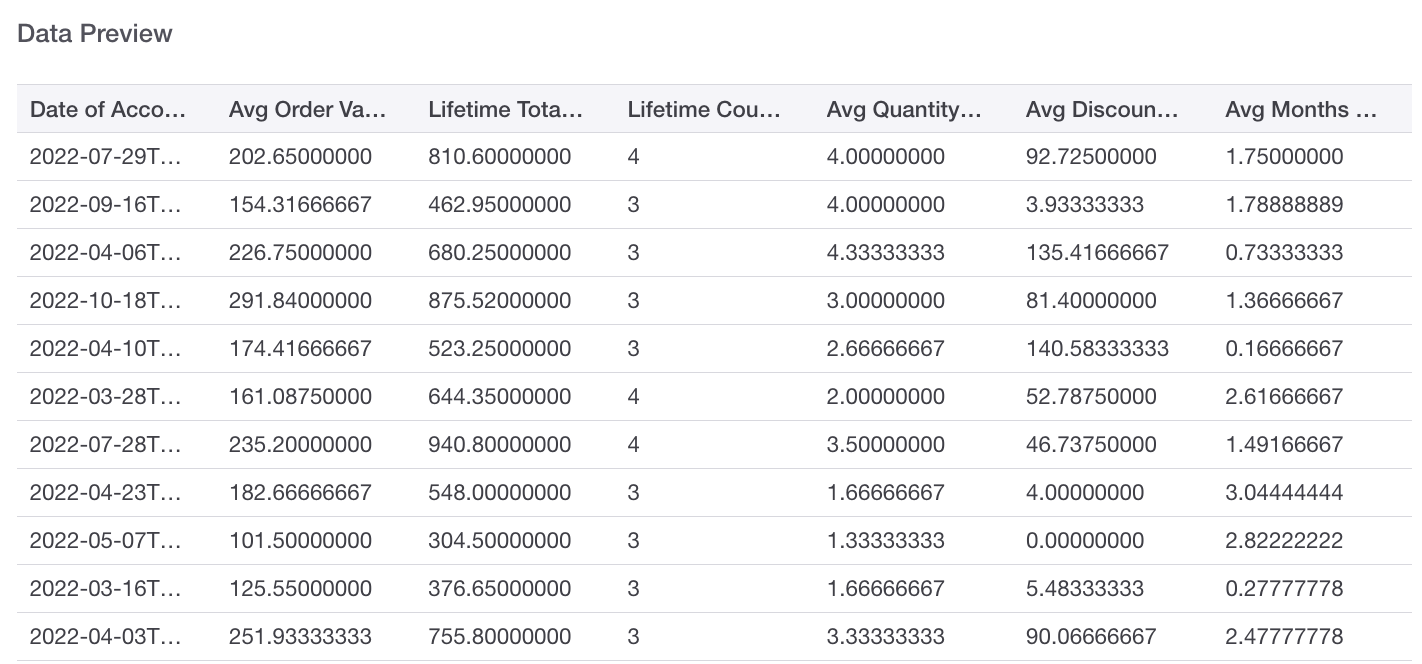 Audience Builder in action
Imagine you're a multinational apparel retailer with an extensive product catalog and planning to launch a new vest. As a marketer, your goal is to promote the new product to 2 specific groups:
Your existing customers who have previously purchased vests using your CRM.

New customers who share similar interests with your vest purchasers, using lookalike algorithms from advertising platforms.
The key here lies in building an audience of vest purchasers. However, this can be a complex and time-consuming task, especially when dealing with large volumes of data.
This is where our No-Code Audience Builder comes into play. Let's explore how it simplifies the process:
Identify top customers by filtering for those who have spent over $500 and made multiple orders.

Target high-value buyers who are likely to be interested in your new vest.

Filter for customers who have previously purchased similar products, like vests.

Leverage related entities to establish meaningful connections and refine your audience.

Exclude churned customers to ensure that your top customers are loyal.
This audience is now primed to be synced to destination platforms such as Google Ads, Meta Ads, TikTok Ads, and more, all with just a few clicks.
DinMo's Knowledge Layer
Our no-code Audience Builder relies on DinMo's brand new Data Model, which aims to transform your raw data from your DataWarehouse into meaningful business entities (we will deep dive into this in our next product reveal).
You can create your Business entities and link them together directly on DinMo in just a few clicks. After doing so, DinMo will then understand where to look to retrieve your Customers or your Products.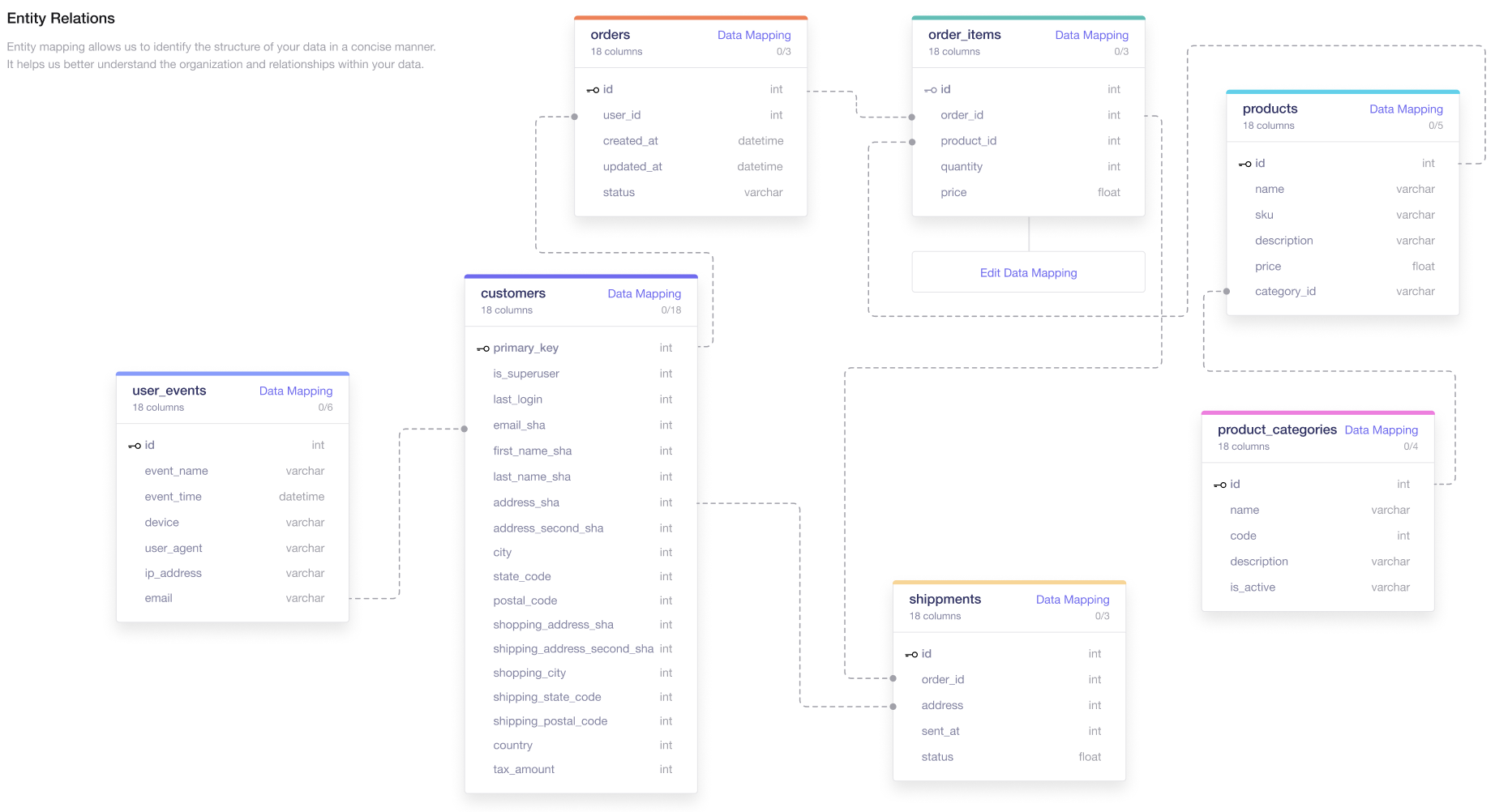 Typical E-commerce Data Model supported by DinMo
With DinMo's No-Code Audience Builder, you can navigate the data-driven marketing landscape with newfound confidence and agility. Leave the complexity of audience building to us while you concentrate on what matters most: crafting compelling marketing campaigns that drive growth and success.
Stay tuned as our dedicated team continues developing exciting new features like this to enhance your growth efforts further.