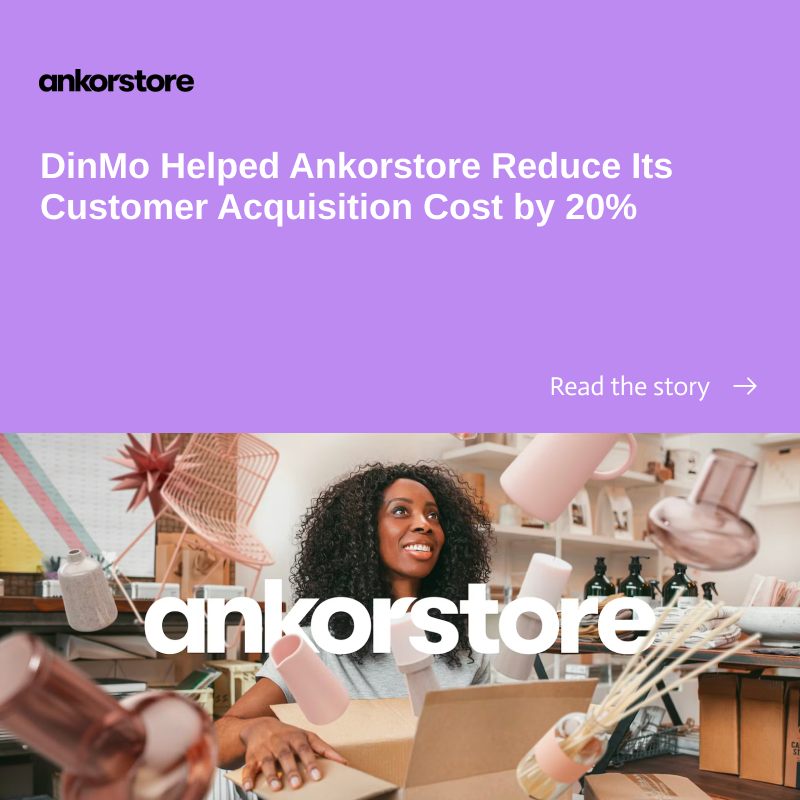 How DinMo Helped Ankorstore Reduce Its Customer Acquisition Cost by 20%
Introduction
In the competitive world of ecommerce, companies constantly face the challenge of capturing customers' attention in a saturated digital landscape while managing increasing customer acquisition costs. 
In this context, Ankorstore, a French unicorn connecting major brands with independent retailers, aimed to further penetrate the market and retain users, while limiting marketing campaign costs. 
Our challenge was significant: How to support substantial growth while decreasing customer acquisition costs?
That's where DinMo stepped in, enabling Ankorstore to have a ROI for the tool of 20.
Needs
Ankorstore wanted to enhance the profitability of its digital marketing campaigns through smarter targeting. The goal was to capitalize on its first party data to reach high-potential segments and optimize its ROI. In this context, Ankorstore's marketing teams needed autonomy to create customer segments and send them to their marketing platforms, even though they had no technical expertise.
"We chose DinMo because the solution was easy to implement. In just 1 hour, everything was set up. We could build our segments ourselves and use them directly in Google Ads."
Sylvain Sengbandith, Lead Performance Marketing
DinMo's Role
DinMo provided Ankorstore with a tailored solution that helped overcome these challenges. Through our modular Customer Data Platform, which integrates seamlessly with Google BigQuery, Ankorstore's marketing teams have gained autonomy in their initiatives. Our platform facilitated the creation and synchronization of audiences on Google Ads.
Results
The collaboration between DinMo and Ankorstore yielded measurable results, illustrating the potential of leveraging customer data to reduce customer acquisition costs. Here are some of the most significant outcomes:
-20% reduction in CPA (Cost Per Acquisition)

- 24% increase in conversion rate

Enhanced customer experience
"In less than a month, we already had significant performance. On our non-brand campaign, we measured an average conversion rate of +24% and a CPA reduction of -20%."
Sylvain Sengbandith, Lead Performance Marketing
If you'd like to find out more about this customer story and our next steps with Ankorstore, please read our full article.